Credit Card - Online Credit Card Application
Going through the process of applying for a new credit card has changed over the years. Historically, it required in-person meetings with a bank with you bringing hard copies of the relevant documentation. Today online applications are becoming more commonplace.
Find out more about how to
apply for a credit card online
, what the process entails and the key benefits of an online credit card application.
Check my eligibility
29.5% APR Representative (variable)
Rated Excellent
For all credit scores - poor to excellent
Starting credit limit up to £1,500
Check with no impact to your credit rating
Rated Excellent
For all credit scores - poor to excellent
Starting credit limit up to £1,500
Check with no impact to your credit rating
Applying for a Credit Card Online
The process of applying for a credit card online is relatively simple. Some of the information applicants provide at the initial stage of an online credit card application includes:
Name, title and contact details
Date of birth
Marital status
Residential status and address
How long you've been at your current address
Your employment status
Your monthly income and spending
Whether you have any dependents (anyone who depends on you financially)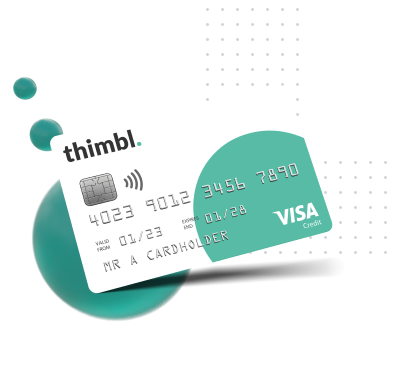 When you provide this information it determines your eligibility for the card you are applying for, prior to a provider conducting additional thorough checks on you and your financial status; such as fraud checks and a comprehensive check on your credit file with a hard credit check.
What is a Hard Credit Check?
A hard credit check is a full search of your credit record. When a hard credit check has been completed, a record is made, which allows companies who carry out a full credit search to see that you've applied for credit. Each time you make a full credit application, a new credit search marker will appear on your record.

Lenders will use hard credit checks to assess your suitability for their financial products that you have applied for. Hard credit checks are conducted when you've applied for a loan, mortgage or a credit card, or if you apply to a utility company or for a mobile phone contract.
Eligibility checks can assess whether you are eligible or not, usually this takes less than 60 seconds. Checking your eligibility has no impact on your credit score and is only visible to you on your credit file. This means there is no detrimental impact on any future credit applications from checking your eligibility.
The perks of having thimbl.® in your wallet

Mobile app
Manage your account from your smartphone or online
24/7 Fraud Watch
Don't get caught short by fraud on your card
Help credit rating
Start improving your credit rating today*
Representative 29.5% APR (variable)
Applying Online
Applying for the right credit card for your situation can be overwhelming, with a vast range of card options available online. Finding the right option that suits your specific needs is important.
We recommend that you always do your research on the card choices at your disposal and take time to understand your financial situation and what you are looking to achieve with a credit card. This will give you the best possible chance of making a suitable decision.
There are a range of different benefits to applying for a credit card online. Such as:
Convenience
Quick application process
Ability to compare various card options
Fast decision on your eligibility
If you have done some research and feel thimbl. is the right fit, then the application process is fast and simple. If you're eligible, our credit card offers up to £1,500 initial credit, with potential for increases, depending on your repayments and spending. To be considered for credit limit increases, use your card sensibly, stay within your credit limit and pay at least your monthly minimum payment on time. Not doing so could harm your credit rating and make obtaining credit more difficult.
To get started with your application you need to provide all the relevant information to thimbl. and we do the rest for you; letting you know the credit cards or loan options you are suitable for and the credit limits available.
What is a thimbl. card?
A thimbl. credit card is a credit building credit card, any adult can apply, and the card has a focus on helping customers with poor credit to rebuild their credit score. The card offers contactless payments and works at all major vendors, in the same way as any other credit card does. thimbl. also offer a mobile app, so you can view the balance of your credit card, outgoings and repayments whilst on the go. thimbl. is only one part of a healthy credit rating. If you don't keep on top of other accounts you may have, these could damage your credit rating rather than improve it.
Find out if you'll be accepted before you apply for your
thimbl
.
®
credit card
For all credit levels, from poor to excellent
Checking won't affect your credit rating
29.5% APR Representative (variable)
Check my eligibility
How to check your credit score?
If you're interested in getting a better understanding of your credit score, you can check Equifax, Experian and TransUnion. All these companies provide credit checking services. thimbl. accepts applicants with credit scores ranging from poor to excellent. You can check your eligibility for a thimbl. card without impacting your credit score.
If you have any more questions about thimbl. credit cards or the online credit card application process, see our Frequently Asked Questions below:
Questions
Is an express check binding?
No. After completing an express check, there is no obligation to continue with your application for a thimbl. credit card. This stage of the process simply establishes whether you are eligible.
What happens in the event of non-repayment?
You must make the missed payment before your next month's payment is due. If you don't and you also miss your next payment, your account will be reported to the external credit bureau as 2 payments in arrears.
Furthermore, non-repayment impacts your credit score negatively and incurs a £12 late fee.
If you struggle to keep up with repayments, you can seek free financial advice from any of the following: Visit moneyhelper.org.uk, for free, unbiased access to money tools, information, and advice or you can phone on 0800 138 7777.
Visit stepchange.org which is a debt charity offering free debt advice in the UK via the website or UK phone on 0800 138 1111.
nationaldebtline.org can also help if you live in England, Wales or Scotland phone 0808 808 4000 or visit the National Debt Line website above for debt advice and information.
Can I trust thimbl.?
thimbl. is rated 'Excellent' on Trust Pilot by our customers, and we offer great customer services through the emergency helpline.
Can my credit limit change?
Depending on your spending, repayment habits and credit score, over time you are able to be considered for an increased credit limit on your thimbl. credit cards. We offer an initial credit limit of £1,500, with the potential for increases to a credit limit of £5,000 over time.
The perks of having thimbl.® in your wallet

Mobile app
Manage your account from your smartphone or online
24/7 Fraud Watch
Don't get caught short by fraud on your card
Help credit rating
Start improving your credit rating today*
29.5% APR Representative (variable)